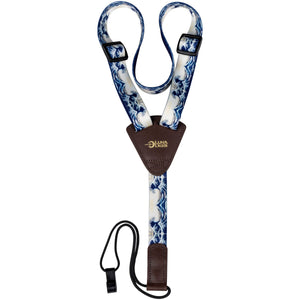 Japanese artist Hokusai's "The Great Wave of Kanagawa" (1830 - 1833) masterpiece immerses the onlooker in the glorious cresting of a tidal wave off the coast of Sagami Bay. 
Add this same design to your adjustable harness style ukulele strap and feel the creative confidence as the motioning waves follow the thick polyester weave behind the neck to rejoin chest level at the gold logo embossed leather. Hook at the end captures your ukulele's sound hole to make it easy to pick up and comfortably hold your instrument.
Join the Luna Tribe!